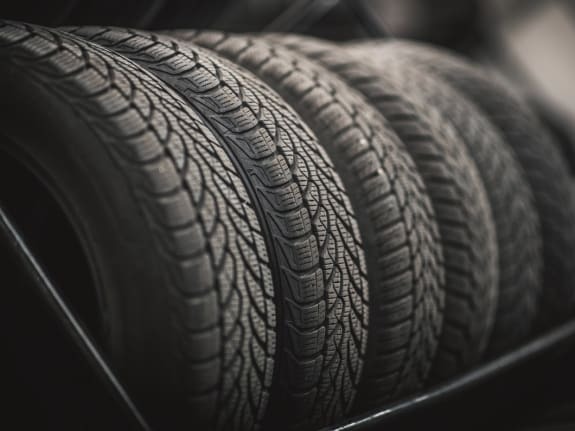 THE LAUNCH OF TYRES ONLINE
Despite being two of the most crucial components of any car, tyres and brakes are frequently overlooked by drivers when it comes to regular maintenance.
Each year, around a third of tested vehicles fail their MOT, with faulty braking systems and poor tyre conditions together accounting for around 1.5 million fails*. However, there are many warning signs that indicate your brakes or tyres should be replaced and being aware of these means you can spot any issues before your MOT tester does.
Here at Westcars of Tiverton, we want to help keep drivers in the know and safe on the roads, so we have put together some useful tips to ensure you can spot anything potentially hazardous with your tyres or brakes.​
TIRING TYRES
Given they are the only part of your vehicle that actually connects you with the open road, it's no surprise that tyres can sometimes become a bit worse for wear. Here are some signs that should alert you when it's time to get your tyres checked:
Frequent pressure drops: There's no one-size-fits-all recommended tyre pressure, so you will have to check your owner's manual to find the right pressure for your vehicle. However, if you are regularly having to inflate your tyres, it may come as no surprise that you should be getting them checked.
Your car is vibrating more than usual: Whilst this could be down to a number of issues, it's always worth making sure you get your tyres checked as abnormal vibrations could be caused by balding tyres.
Cracks in a tyre's sidewall: Although this is common even in the most expensive tyres, over time, hairline cracks could result in the tread separating more easily or, in the worst-case scenario, a blowout.
Your tyres fail the 20p test: The 20p test is a simple, quick and easy way of checking the tyre tread of your car's wheels. Just take a 20p coin and insert it into the tread grooves on the tyre. If you can see the outer band of the coin, your tyres could be unsafe and not meet legal requirements.
You have owned your tyres more than five years: Like any other part of your car, your tyres won't last forever. On average, brand new tyres will last around five years, so if you have exceeded this it may be worth just checking your tyres as a precaution.
BREAKING BRAKES
No part of your car works harder to keep you and others safe on the road than your brakes. Here are some signs that your brakes may need to be replaced:
Abnormal sounds: A lot of people often put noises like grinding, squealing or thumping down to general wear and tear, however, having a routine brake check you can ensure these potential issues are rectified.
Brake fluid leaks: Before you set off on your journey, if you notice a small puddle beneath the car that resembles motor oil, but it is more of a yellow colour than brown, the liquid may be brake fluid. A brake fluid leak is a serious emergency, so do not attempt to drive your car and contact your Vauxhall dealer as soon as possible.
Pedal is pulsing or vibrating: If you feel any severe pulsations or vibrations when pressing down on the brake pedal, this could indicate a damage or warping to your car's brake rotors and should be checked straight away.
Poor handling: If your brakes are in good condition, you should not experience any change in direction when you apply pressure to the pedal. If your car is veering to one side when breaking, it is important that you get your brakes checked as soon as possible.
Rubber odours: The strong smell of burning rubber in normal traffic situations is a clear warning sign that something is wrong with your car. This could be down to a number of issues, one of which concerns your brake pads - they may be so worn that they cannot create friction without eroding the rubber pads. If this is the case they may need to be replaced.
GET YOUR CAR BACK TO ITS BEST!
We are doing our bit to ensure drivers are safe on the road with the launch of two new Vauxhall services that will ensure your brakes and tyres get you from A to B without any problems.
Following the continued success of its All Makes check-up campaign, Vauxhall has introduced a new Tyres Online section to its website. The new offering is open to all drivers regardless of their vehicle make or model, and drivers can search, select, purchase and arrange tyre fittings right here at Westcars of Tiverton, via the Vauxhall website: https://vauxhall.dealertyres.co.uk/.
For more information, contact the team.
Latest News
08-03-2021
Following the latest guidance from the government, we have reopened our showroom…
Read more